The Three Musketeers
Pegasus Theater Company presents Ken Ludwig's The Three Musketeers, adapted from the novel by Alexander Dumas. The play runs June 9 - June 26 at the Riverkeeper Stewardship Park on the bank of the Russian River in downtown Guerneville.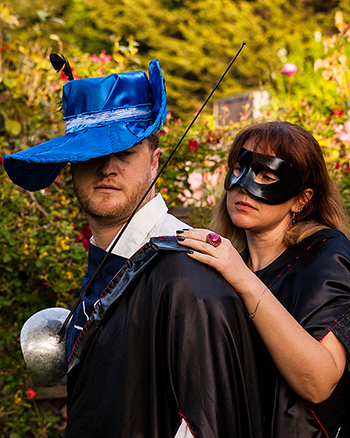 Please note that this play was originally announced as beginning a week earlier, but unavoidable circumstances required it to be postponed a week.
Ken Ludwig's adaptation of The Three Musketeers has all the swashbuckling, romance and danger that you'll ever want when you hear those magic names: Aramis, Athos, Porthos, d'Artagnan -- and, of course, the beautiful, but totally ruthless Milady.
But Ludwig has heightened the humor, distilled the story's energy and refreshed its timelessness. He has also introduced a new main character: Sabine, d'Artagnan's feisty sister who, disguised as a boy, accompanies him when he goes to Paris to join the King's Musketeers, and who proves to be equally if not more skilled at swordplay.
So be prepared for swordfights to break out anywhere in the park and for true love to erupt when you least expect it but most desire it!
The cast includes Vincent Black, Nick Christenson, Rosie Frater, Bill Garcia, Athena Gundlach, Michael Hunter, Jana Molina, David O'Connell, Olivia Rooney, Marcia Schwartz, Yelena Segal, Rusty Thompson, and Noel Yates.
All performances, Thursday through Sunday, begin at 6 p.m. Please note that there will be no performance on Thursday, June 23.
Tickets for all Friday, Saturday and Sunday performances may be purchased through Brown Paper Tickets at threemusketeers.brownpapertickets.com or by calling 1-800-838-3006. Tickets are $18 or $25, depending on seating selection.
Seats for the 3 Thursday performances are pay-what-you-can, and are available on a walk-in basis only because we are not taking reservations.
All ages and family-friendly.
Riverkeeper Stewardship Park information:
Venue: Riverkeeper Stewardship Park
Map: Riverkeeper Stewardship Park
Parking: Some parking is available next to the park. Additional parking can be found on First, Main and Third Streets.
Thank you to the Heck Foundation.