The Three Musketeers
COMING SOON! Ken Ludwig's The Three Musketeers adapted from the novel by Alexandre Dumas June 2 – June 26 at Riverkeeper Stewardship Park in Guerneville.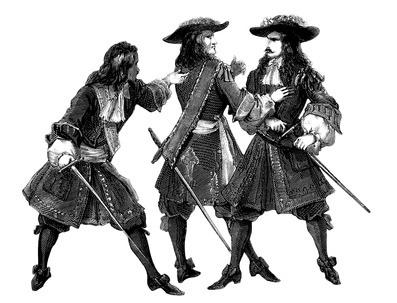 Ken Ludwig's The Three Musketeers has all the swashbuckling, romance and danger that you'll ever want when you hear the magic names Aramis, Athos, Porthos, d'Artagnan and, of course, the beautiful and vengeful Milady.
To Dumas' original swordplay and chivalry, Ken Ludwig has added his own special brand of humor, distilled the story's energy and refreshed its timelessness.
Be prepared for swordfights to break out anywhere in the park and for true love to erupt when you least expect it but most want it!
All ages and family-friendly.
Riverkeeper Stewardship Park information:
Venue: Riverkeeper Stewardship Park
Map: Riverkeeper Stewardship Park