Picasso at the Lapin Agile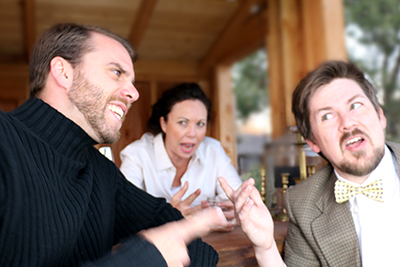 Picasso at the Lapin Agile is a magical look into an imagined conversation between two minds that had a powerful impact on the shape of the 20th century and those lucky enough to have been there to witness it in a neighborhood bar in Paris in 1903. It brings to life Einstein and Picasso, still in their early twenties, as they debate the meaning of art, the power of thought and the essence of everything. Einstein is still toiling in his job at the patent office but is looking for a publisher for his Theory of Relativity, and Picasso is on the verge of painting his revolutionary Les Demoiselles d'Avignon.
Written by celebrated comedian and actor Steve Martin, this play is comical and deep, moving and sometimes absurdist, and a profound and rewarding journey for the audience.
The show opens on Friday, November 4 and runs through Sunday, November 27 at the Graton Community Club.
Friday and Saturday performances start at 8 p.m. and Sundays at 2 p.m. General admission is $18; except the first 2 Fridays, November 4 and 11, are pay-what-you-can.
Tickets may be purchased at pegasustheater3.brownpapertickets.com or by calling Brown Paper Tickets at 1-800-838-3006. Seats for the pay-what-you-can performances are available on a walk-in basis only, and we will not be taking reservations.
Venue: Graton Community Club
Map: Graton Community Club
Picasso at the Lapin Agile is sponsored by Maresca Money Management