The Last of the Red Hot Tenants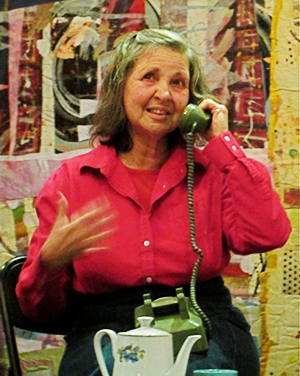 What would you do if somebody offered you over half a million dollars to leave your rent controlled apartment?
Written and performed by Lois Pearlman, The Last of the Red Hot Tenants tells the true story of Manhattan artist Jean Herman's unusual response to this dilemma. It also explains why a third story apartment is embedded in an Upper Eastside office building.
Sebastopol artist, Francine Krause, who saw the play at its world premiere, said, "Pearlman's script and performance were believable, heartfelt, funny, poignant, and relevant. I recommend that this play be seen by everyone, hands down."
The Last of the Red Hot Tenants is based on an earlier play by Michael D. Fels. It is directed by Diana Grogg.
The Last of the Red Hot Tenants will have two performances only: Friday, February 23 and Saturday, February 24 with both performances beginning at 7:30 pm at The Blue Door gallery in downtown Guerneville. Admission is $10. Proceeds will benefit Pegasus Theater Company. Pegasus will not be taking reservations for this event.
Venue: The Blue Door
Map: The Blue Door